WOOHOO! Thanks to everyone who helped me reach 100 "likes" on my Life Of Faith Facebook page! Is there a better way to celebrate than with a giveaway? I definitely can't think of one!
Prizes include:
3 Pairs of Claire's Earrings
1 Fabric Flower Hair Clip
One month of FREE medium ad space on The Life Of Faith blog
50% off your choice of chalkboard frame from the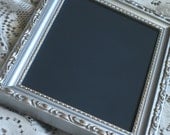 How does that sound? I hope you are as excited as I am! I couldn't have come this far without all of my amazing readers and fellow bloggers, so thanks again!
Enter away and don't forget to share this giveaway with everyone you can!