And we are back for our weekly Mommy Moments Link up! Thank you to everyone who participated last week. I LOVED reading all of your mommy moment posts. I learned a lot about what I have to look forward to in just a few short months!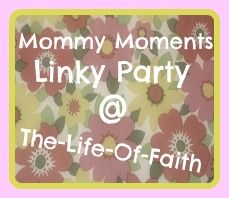 The post with the most views from last week was 15 Week Baby Bump Update
by Sarah at The Not Quite Military Wife
Sarah is just a few weeks behind me and blogging her pregnancy adventure the same way I am! Check out her sweet lil' baby bump:)
I'm sure Sarah would love you to follow along with her as well! Thanks for linking up Sarah!
Now here is my update for week 19! Can you believe I'm almost half way?
How far along: 19 weeks baby!


Movement:
Lots of movement in the past week...at least compared to not feeling anything for the last 18 weeks:)
Weight Gain: I have gained a few pounds back...right around 116-117.


Maternity Clothes: No maternity clothes yet, but I do have to use a hair tie to close a few of my jeans. I also ordered a couple pairs of belly bands from Baby Be Mine for $6.99 each! Pretty good deal, so for all of my preggo friends, make sure you check it out before they run out!
Best moment of my week: I was working on my computer and felt a the baby kicking a little, so I put my hand on my belly and pushed just a little. He/she kicked my hand right at that moment! It was the first time I've felt it on the outside! Now for Jimmy to feel it...


Worst moment: I hate crying. I hate crying by myself, in front of people, and even in front of my husband. Unfortunately, I've been blessed with a large amount of pregnant hormones that seem to trigger a lot more crying than I would prefer! I nearly cried through an entire movie this week...that's not fun at all!
Sleep:Well I had my first "hate my husband" dream! I guess they are pretty common for pregnant women. Mine was pretty silly actually, but I remember being really upset in my dream! When I woke up, I was still in love with him though, so we are all good.


Miss Anything:
I miss being able to eat without worrying if I'm going to puke. I also miss my appetite.
Food Cravings: I finally got my doughnuts! I still really like popcorn, chocolate, and fruit.


Aversions: Food in general when I'm not feeling well


Gender Prediction: We find out TODAY! Can you tell I'm excited?? I can't wait to let you all know;) Leave your gender prediction in the comments below, and I will tally them up before I reveal the gender!
Belly Button: I'm going to have a major outie before too long now...


Moody or Happy: Even though I hate to admit it, I've been pretty moody this week.


Looking Forward: To finding out the gender this afternoon! Seriously. I can't wait!
Now it's your turn to link up with your Mommy Moments!
Mommy Moment Link Up Posts could include:
-Your thoughts on mommyhood:)
-Things you are learning about/as a result of being a mom
-Your frustrations as a mom
So basically any post you have written that involves being a mom will count! Just grab my button and include it somewhere on your blog or in your post. Oh and just like any other linky part, don't forget to visit each other's posts and leave some love! I can't wait to see what you all share:)