I am so excited to have you join me this Monday for my first EVER Linky Party! I've started writing my baby bump updates every Monday and thought it would be great if you could join me in sharing all of your "mom" posts from the week!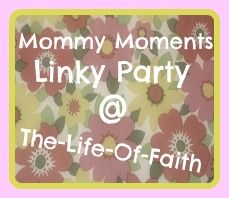 Mommy Moment Link Up Posts could include:
-Your thoughts on mommyhood:)
-Things you are learning about/as a result of being a mom
-Your frustrations as a mom
So basically any post you have written that involves being a mom will count! I can't wait to see what you all share:)
And now, here's my update for the week!
What was my favorite thing about week 16?
Putting together my baby box. I decided it was time to find a place to put all the sweet little baby things I've gotten the past few months. I cleaned out a wooden chest in the spare bedroom and put all the little onesies, blankets, toys, and books that I have so far. It all looks so baby! I love it!
I also love looking at myself in the mirror and being able to SEE that I'm pregnant! I'm sure I am starting to annoy Jimmy every time I say
"Look at me babe! I look pregnant!"
What am I craving? Chocolate and Popcorn! I feel like these are pretty normal cravings right? I'm so past the sour dough bread phase...
What foods make me sick? Hamburgers, onions, green peppers (I know this because I made fajitas this week...not a happy ending there).
Other random things about my 15th week:
-Every morning when I wake up, I feel like I've been working out-all my muscles are stiff and what not. And let's be honest, Faith has not been working out! I do my prenatal Pilates every day, but that's barely strenuous!
-My pregnancy brain is very entertaining to my hubby! The other night we were having a conversation and I made the statement.
"You know I'm true!" instead of "You know I'm right"!
I don't even know how these things come out of my mouth!
What I'm looking forward to:
Feeling my baby move. I sometimes sit real still and try to feel something...but I haven't felt it yet!
Finding out if it's a he or a she on July 30th! I can't wait!!
Oh and even thought this isn't really pregnancy related, we are going to look at a house tonight! Pray it's the one! I'm ready to start on that baby room:)
Psalms 139:13
For you created my inmost being; you knit me together in my mother's womb.
K now it's your turn friend! Don't forget that part of what makes this a party is YOU visiting each other's posts and leaving comments! Even just clicking that G+ button at the bottom of the post may make someone's day:)
Next Monday, I will feature the post with the most views. Hope it's you!
Ready...Set...Go link up that post!
And won't you help me get this party started by sharing on your Facebook, Blog, and Twitter?
Here is the button to share on your blog, or add it to your post so your followers know where you are partying!
PS.
If you haven't entered my giveaway,
Don't miss out! You can find it
here
.