And we are back for week 2 of the Mommy Moments Link up! Thank you to everyone who participated last week. It was a great turn out for my first party:) I LOVED reading all of your mommy moment posts. I learned a lot about what I have to look forward to in just a few short months!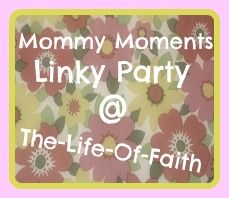 The post with the most views from last week was
One of those days
by Natassia at
Nat's Knapsack
"

This is what a bottle of baby powder looks like when in the hands on a toddler."
Thanks for linking up Natassia!
Now here is my update for week 18!
Movement:
I felt the baby kick for the first time on Wednesday night! It has been the best part of being pregnant so far:) I LOVE it!
Weight Gain: Still working on getting up to my pre-pregnancy weight. All that throwing up really threw me off. I'm getting there though!
Maternity Clothes: I still haven't worn any maternity clothes yet. Although, I can't button all of my pants/shorts, I've been using the hair tie trick. It's worked out pretty well so far! I've been on the look out for deals though...
Best moment of my week: Feeling the baby kick
Worst moment: Now it's a funny story, but at the time it wasn't funny at all. I was applying to be a transcriber so I could make a little money from home. It required taking a 3 hour test copying down information from this recording.
Well, while I was copying the information down, my doctor called me about a breast feeding class. I immediately wrote the information down on the open document on my computer (the test) and intended on deleting it later. Well, I'm sure you can guess what happened. Yup! I sent in the test with all sorts of breast feeding information at the bottom. Don't think I'm going to get that job!
Sleep: Not the same anymore! I wake up to pee at least once a night...and my dreams are pretty crazy lately!
Miss Anything:
caffeine
and lunch meat...
Food Cravings: Popcorn, ice cream and chocolate....I should be gaining weight with all that right?
Aversions: Anything when I'm nauseous
Gender Prediction: We both think girl, but don't really have a good reason. We will know for sure next Monday!
Belly Button: It's poppin' out:)
Moody or Happy: This week I've been pretty stressed and frustrated with a lot going on. Over all though, I've been pretty happy!
Looking Forward: Finding out if it's a boy or a girl next Monday. Stay tuned and I will let y'all know!
There you have it! That's my pregnancy in a nutshell. This week, I haven't had the chance to take a real baby bump picture, so I got creative and found this picture that shows off the bump just a little;) Gotta love them tractors!
Well, now it's your turn to link up with your Mommy Moments!
Mommy Moment Link Up Posts could include:
-Your thoughts on mommyhood:)
-Things you are learning about/as a result of being a mom
-Your frustrations as a mom
So basically any post you have written that involves being a mom will count! Just grab my button and include it somewhere on your blog or in your post. Oh and just like any other linky part, don't forget to visit each other's posts and leave some love! I can't wait to see what you all share:)