Remember my July Featured Sponsor Miss Bea who I wrote about earlier this month? If not, check it out
here
.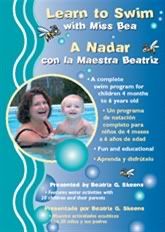 Miss Bea has been teaching swimming since 1971 and has had years of experience teaching babies, toddlers, and countless children how to swim. Because she felt there were no good guidelines out there to teach babies and toddlers to swim, she developed her own and put them together in an easy to use DVD.
Here is a sneak peek of the DVD!
Miss Bea believes that YOU as your child's parent are the best one to prepare your child for the water and to teach them swimming, not only for their own benefit, but also for their safety!
And guess what....Miss Bea has generously offered one of my readers a
FREE
copy of her Learn to Swim With Miss Bea DVD!
Let's show her how much we appreciate it, by showing her some love on her
blog:
Learn to Swim With Miss Bea and Facebook page
Swim With Miss Bea.
In addition to the free DVD, our very lucky winner will also get a free month of medium ad space right here at The Life Of Faith!