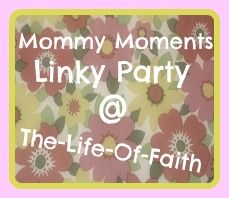 It's Mommy Moment Link up time! Look at me being all on top of things this week;) Not gonna lie...I prepared this in advance. Let's be honest, there's no way I can be on top of things on a Monday morning!
Again, thank you to everyone who participated last week. I LOVED reading all of your mommy moment posts. I learned a lot about what I have to look forward to in just a few short months!
The post with the most views last week was from Becky at
Time Out: Devotions For Moms!
Her post
If You Give A Mom A Minute
is definitely one that I want to hide away and reference for my future as a mommy. If you haven't read it...go check it out and leave her some love! Becky's blog is a great place for moms to find some encouragement and challenges! I've already learned a lot from her.
Thanks for linking up Becky:)
Now it's your turn to link up with your Mommy Moments!
Mommy Moment Link Up Posts could include:
-Crafts or recipes (not necessarily kid related)
-Your thoughts on mommyhood:)
-Things you are learning about/as a result of being a mom
-Your frustrations as a mom
So basically any post you have written that involves being a mom will count! Just grab my button and include it somewhere on your blog or in your post. I think it's extra sweet if you share my party on Facebook or Twitter...just sayin':) Oh and just like any other linky part, don't forget to visit each other's posts and leave some love! I can't wait to see what you all share:)