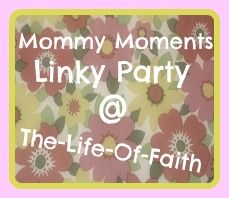 Welcome back for another week of Mommy Moments Link Up!
Again, thank you to everyone who participated last week. I LOVED reading all of your mommy moment posts. I learned a lot about what I have to look forward to in just a few short months!
A special thank you to those of you who put my button on your post, or better yet, shared the linky party on Facebook or Twitter. You guys are the best:)
The most viewed link from this week belongs to Sarah at The Not Quite Military Wife and her post 18 week baby bump update! Just a few weeks behind me in her pregnancy, Sarah has been linking up her weekly updates right along with me! Check out her super sweet baby bump:) Doesn't she look great!
I hope you will follow along with Sarah and stay up to date on her pregnancy as well! Thanks for your faithful linking Sarah:) I'm excited to follow along with you in your pregnancy!
Now it's your turn to link up with your Mommy Moments!
Mommy Moment Link Up Posts could include:
-A pregnancy post
-Crafts or recipes (not necessarily kid related)
-Your thoughts on mommyhood:)
-Things you are learning about/as a result of being a mom
-Your frustrations as a mom
-Funny mom stories
-Mommy/Kid photos
Basically any post you have written that involves being a mom will count! Just grab my button and include it somewhere on your blog or in your post. I think it's extra sweet if you share my party on Facebook or Twitter...just sayin':) Oh and just like any other linky part, don't forget to visit each other's posts and leave some love! I can't wait to see what you all share:)