Now that I'm a mom, being a good mom is my passion. I don't want to do anything halfheartedly, definitely not being a mom!
Growing Great Kids is a book by Kate Battistelli that I had the opportunity to read and review.
Kate is actually Francesca Battistelli's mom. I have always been so encouraged by Francesca's songs so it was neat to read about her life from her mom's point of view.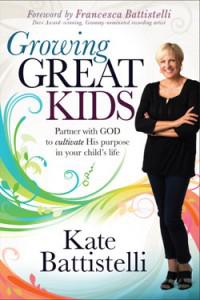 I love the heart Kate has in this book. She makes the following statement:
"Teaching our children to know and love God and to delight in Him should be our highest aim as we raise our kids."
She couldn't have said it better! When our children know and love the Lord, they will be great kids! The book also highlights the importance of c
reating an environment where your kids are able to grow and are inspired to use their talents for the Lord.
One of the things that stood out to me the most was that Kate stresses the importance of the words we speak into our children's lives. If we aren't affirming and let them know that we believe in them, chances are no one is. Kids need that!
Each chapter ends with questions to ask yourself on the topic. They really get you thinking about the kind of parent you are and want to be. There is also a prayer to the Lord at the end as well. I think it's a good reminder that without the Lord, we can't be good parents. We need Him!
There was an aspect to this book that I did not agree with. I believe that Kate placed too much emphasis on your child being successful on this earth. God doesn't call everyone's child to a life of fame or even what the world deems as successful.
In spite of not agreeing with everything, I was still very encouraged by this book to stand behind my daughter and encourage her in her dreams. I have so much influence over who she becomes someday. It's very sobering to think about. I think the most important thing that I learned from this book is to seek the Lord, do my best to be a faithful mother, and then trust Him with my children!
Disclosure:
I received a free copy of this book/Ebook/Product to review. I was not required to write a positive review nor was I compensated in any other way. The opinions I have expressed are my own. I am disclosing this in accordance with the FTC Regulations. I am part of

The CWA Review Crew

.