Hubby and I had a conversation over the weekend that got me thinking about why I started The Life Of Faith. I'm sure there are others out there as well who are curious as to why anyone would want to be so open with their lives! So here's a little insight into why I choose to blog.
When I first started this blog, it was simply a private journal. I wanted to record my thoughts, my life, the things God is teaching me and just have a place to write. And so this became my little safe haven for writing.
I was very self-conscious about my writing and way too embarrassed to let any of my friends read it, much less people I had never met! I liked my privacy.
Since that time, God has changed me a lot. I mean A LOT.
As I was reading my Bible one day, I came across this verse:
Matthew 5:15-16

"Neither do people light a lamp and put it under a bowl. Instead they put it on its stand, and it gives light to everyone in the house. In the same way, let your light shine before men, that they may see your good deeds and praise your Father in heaven. "
I immediately realized that I was hiding my light by not sharing my blog. What an opportunity this is to share Christ not just locally but all over the world! Now, I realize that God doesn't call everyone to share their lives in the way that he has called me. We all have different gifts and ministries! But I knew that writing was something I enjoyed and this was an opportunity for the Lord to use it!
The hardest part for me was being willing to put myself in a place of vulnerability, to allow people who I had never even met to share in my joys, difficulties and memories! I still often feel that my life is not worth sharing. There is nothing good about me, my life, or my writing that I can brag about. Who I am today is only because of the grace of God and nothing more.



2 Corinthians 10:17

"Let him who boast, boast in the Lord."
So that's why I write. I truly want my life and this blog to be a reflection of Christ and the work he has done and is doing in my life as a wife, mother, daughter, friend, and homemaker. If even one persons life is changed for the Lord then every word I've written is worth it!
I will be the first to admit that I get sidetracked and lose focus on what this blog is for. I do that with my life in the same way as I forget what I'm living for. But I pray that there is never a doubt in my reader's minds that Christ is Lord of my life and He deserves all of the glory!
It's true that God often uses the difficult things in life to refine us. Not long after I opened my writing up to the public, I started receiving very hurtful comments from an individual who it would seem knew me and new my vulnerabilities but chose to remain anonymous. They called me out as a fake and full of it! Although that hurt my pride tremendously, it was out of that hurt that I became even more honest and wrote the post The Real Faith where I shared the good the bad and the ugly about who Faith really is. God used that post to expand my audience and give me the courage to write about more sensitive issues like Modesty, Motherhood, Staying at Home, Dirty Laundry, Surrendering to the Lord, Being abnormal, Marriage, and much more.
It makes me smile to read my first ever blog post, titled "
Where Do I Begin
" and see where God has brought my blog. The Life Of Faith went from a private journal with no readers, to nearly 20,000 views a month. I love when I hear from other young wives and moms who have been encouraged or challenged by my experiences and often they end up challenging me and encouraging me as well!
Since starting this blog, I have come to realize what an amazing gift our children are. Especially in a culture that severely undervalues children, I want to be active in promoting the role of motherhood and so I host a link up for moms called Mommy Moments!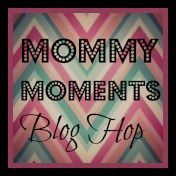 Mommy Moments is a way for mothers to encourage one another and be encouraged in this journey we are all on together!

I am happy that this world is not my home (Hebrews 13:14), but I am also happy that God has given me this opportunity to share my life with you as I'm passing through
.